In our first report we have shown, that mobile Nokia USB modem is in the prototype state, but the device is now available in some markets and we can confirm that this little "devil" supports PDPv4, PDPv6 and PDPv4v6 as well as PDPv4 and PDPv6 in parallel. This time we tested the device more in depth on Simobil 3G mobile network…
Simobil is the third Slovenian mobile operator that implemented IPv6 on their 3G network – after Mobitel and Tusmobil that implemented IPv6 in 2010, and are also offering it commercially for all their users – but as Simobil currently set the plans, development and deployment, they might take their IPv6 deployment and setup even further than competitors.
Go6 was also involved with Simobil IPv6 introduction, mostly with helpful advices and guidance on how to introduce IPv6 in their central and mobile part of the network – and also helped them with testing of the system through deployment steps.
For the test we used APN called "ipv6" that is PDPv4 and PDPv6 context capable – dual-stacked. We used a USB device Nokia 21M-02 and first we tried to connect in IPv6-only mode with IPv4 traffic being diverted through NAT64/DNS64. In next step we use the functionality of Nokia device that can automatically set two parallel PDP context (v4 and v6), if you set the type of connection PDPv4v6 and your central system (GGSN and SGSN) does not support this type of PDP context.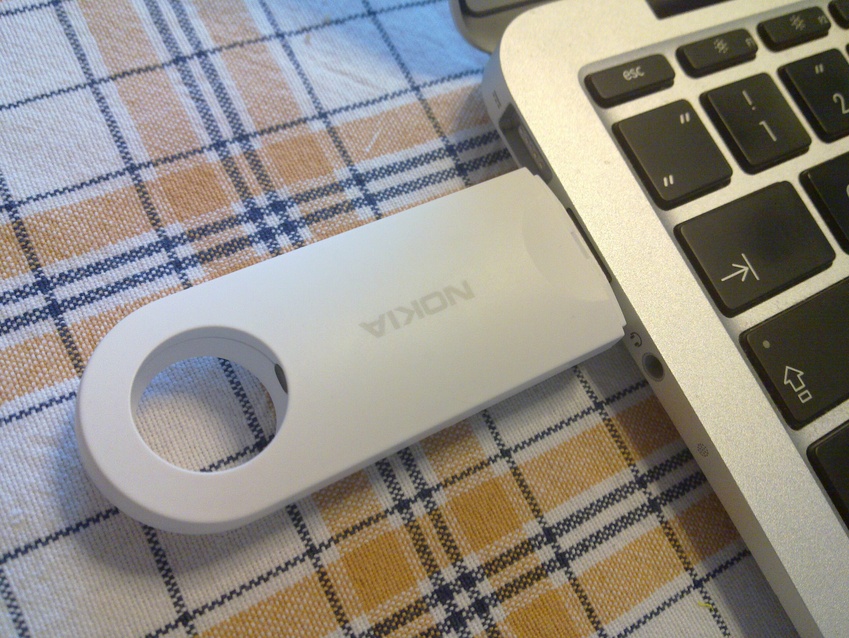 First we set up a link to "IPv6" APN and enter your user name and password.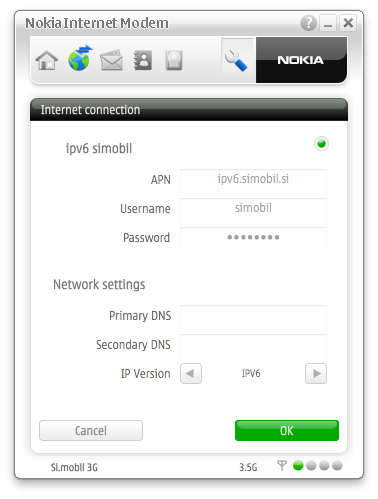 As you can see, it is possible to adjust the 'IP Version', you can choose between IPv4, IPv6 and IPv4v6. First we set it to IPv6, which means that only PDPv6 is used to establish a connection.
Then we set this new connection as active and connect to the network.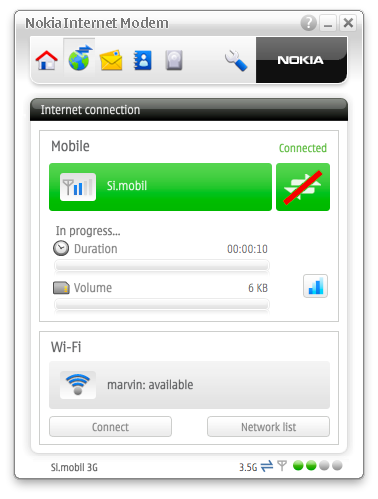 Here we can see that the connection is successful, but let's verify this with more specific tools, such as "ifconfig" and "ping6" 🙂

As you can see, we have the active interface with IPv6 address. All other interfaces have been turned off and inactive (WiFi, Ethernet, etc …).
We try "ping6" on go6.si:

Response times vary, because we tested in the thick-walled lab, where the signal slightly varies and is not exactly the best quality.
We can also check the situation at http://whatismyipv6address.com/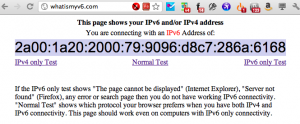 It is time to test IPv4 connectivity, for this Simobil set up NAT64/DNS64 mechanism, which is claimed to be a good alternative and translational mechanism for mobile networks, where requirements are not very high – but in no case for fixed access networks. After we set the DNS64 as primary DNS server, we got the right response.

For testing purposes we used the command "host", which is a DNS client and is used to ask DNS servers for different information. This time we asked for www.24ur.com and as it does not have IPv6 entry, (AAAA) address is DNS64 synthesized from an operator defined NAT64 prefix (2a00: 1a20: 0:64 ::), and host part, that is IPv4 address in HEX format (5bca: 4182).
How NAT64 works in detail can be viewed on technet.com .
Since we have now synthesized www.24ur.com IPv6 address, you can try to send some ping6:

Check with the browser at http://www.24ur.com shows us expected result – 24ur website.
Lets see, how we are visible in IPv4 world – as anticipated we can see here our IPv4 address of the NAT64 device: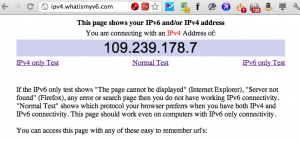 Message to content providers: If you don't set by yourself the AAAA record for your server, it will be synthesized and generated by mobile operators (DNS64) – but in this case AAAA record you do not have it under control and you do not have any impact on user experience, which is the impact of the translation through NAT64.
SiOL.net, najdi.si, rtvslo.si and many other Slovenian content providers already offered the access to their content over both protocols, so in this case there is no need of DNS64 synthesized AAAA record, and traffic does not go through translation mechanism.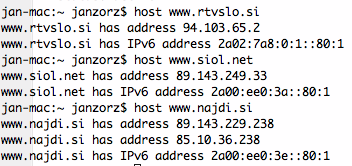 IPv6-only mode and translation through NAT64 gives the operator oportunity to save some IPv4 space, as there is no need to allocate IPv4 address to every mobile phone out there – but we also have some disadvantages – some applications do not work without IPv4 address, for example Skype, and also some others…
Some experiences and results of what works and what does not has been described by our colleague Jari Arkko draft – interesting reading.
In the next test, we tried to set up a connection to IPv4v6, which means that the mobile network should support PDPv4v6 and one connection to transfer both the protocol – IPv4 and IPv6. It is currently still no network equipment out there that supports PDPv4v6 in production (but vendors promise that this will be supported very soon).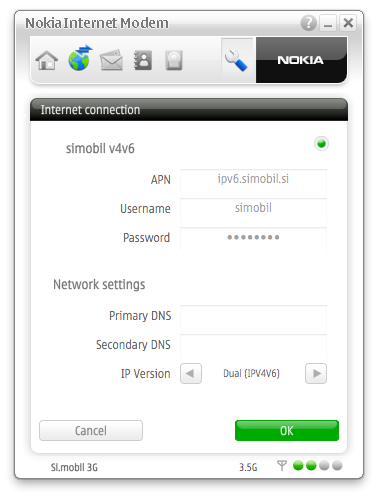 Here we see that the type of connection is IPv4v6 – currently that starts two parallel PDP context, until the network supports PDPv4v6 context properly.
Select the new connection and connect: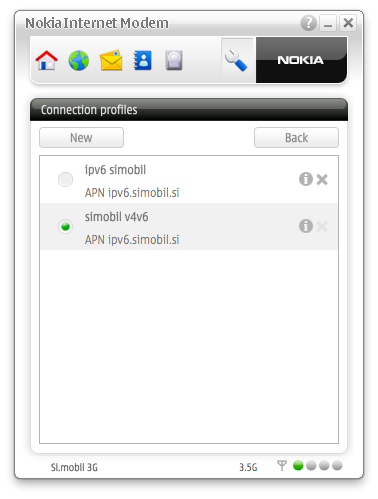 When the connection is made, check it with ifconfig:

As you can see, here we got IPv6 and IPv4 address. We tried to "ping" www.24ur.com and realized that we have direct IPv4 (in addition to IPv6 connectivity).

Let's see if we are visible with our direct IPv4 address on the Internet: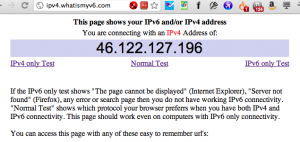 Yes, the address of our mobile terminal is directly visible on the Internet. The disadvantage of this approach is that the end device gets IPv4 address, which is not really helpful if we are running out of IPv4 address space.
Mobile operators around the world are choosing IPv6 + NAT64 as way of experimental connecting of new users and all of the real testing is going in that direction.
The introduction of IPv6 is moving forward with high speed and we are pleased that we can be heavily involved in the deployment and testing of IPv6 in Slovenian networks (and also some others ;).
For Go6Lab, Jan Žorž
Vaš IP naslov (ali ste na IPv6 ?):
3.235.40.122