Ron Broersma svoje razvojno in raziskovalno delo opravlja na U.S. Navy SPAWAR Systems Center Pacific in je poleg vsega ostalega odgovoren tudi za vpeljavo IPv6 v omrežje ameriške vojske. Ker je to trenutno največje enterprise okolje s popolnoma uvedenim IPv6 protokolom smo ga povabili, naj z nami deli svoje izkušnje, predvsem pa pričakovanja glede Svetovnega IPv6 dneva in kako so se v tako velikem omrežju pripravili na kar se da nemoteno delovanje in dostopanje do interneta na ta dan…
Izsek iz njegovega življenjepisa:
Ronald L. Broersma
DREN Chief Engineer
SPAWAR Network Security Manager
Federal IPv6 Task Force
Ron Broersma is a career Scientist at the U.S. Navy's SPAWAR Systems Center Pacific. He currently serves as Chief Engineer for the Defense Research and Engineering Network (DREN), as the SPAWAR Network Security Manager, and as a member of the Federal IPv6 Task Force. Mr. Broersma began his career as a software engineer for the Navy in 1976 at the Naval Undersea Center (NUC) in San Diego. He operated one of the original nodes on the ARPAnet, the predecessor to today's Internet, and has been involved in network research and engineering since that time. In 1983 he investigated the first network intrusion and has been involved in network and systems security ever since. In 1995 he helped to investigate an intrusion that involved the first ever court-ordered wiretap of a computer network and resulted in a television documentary. Since 2000 he has pioneered the deployment of the IPv6 protocol into production enterprise networks, making SPAWAR the first to receive a perfect score on an international survey. Mr. Broersma is co-founder of the Hawaii Intranet Consortium, and is co-founder of the San Diego Regional Info Watch. Along with many awards over the years, he is the recipient of the San Diego IT executive of the year "lifetime achievement award" for 2010.
Ron je bil eden pionirjev in prvoborcev Interneta, saj je operiral arpa.net vozlišče (node) številka 3 in bil del zgodbe nastanka IP protokola iz arpa.net-a, saj je bil prvi RFC, ki opisuje IPv4 narejen za ameriško vojsko.
Z Ronom sem bil so-udeleženec panelne razprave Evropske komisije o IPv6 na kongresu v Parizu februarja in navdušil me je s svojim nastopom, zato smo se skupaj odločili, da ga povabimo kot glavnega govorca na naš 5. Slo IPv6 summit, ki bo v Tehnološkem Parku na Brdu pri Ljubljani 2. in 3. Junija.
Res sem vesel, da se je Ron lahko odzval povabilu, saj sem prepričan, da bo vse navdušil s svojim govorom in izkušnjami, katere lahko deli z nami.
Z njim se dobimo že nekaj dni prej na Norveškem, kjer Go6 predava na njihovem IPv6 summitu, Ragnar Anfinsen (Altibox) ga je v Parizu tudi povabil na njihov dogodek, tako da bo to za Ron-a manjša turneja po Evropi. Dogovarjali smo se tudi z Willom Lawtonom iz Facebooka za predavanje na našem in norveškem summitu, a na žalost takrat ne more iz USA, saj bo pritisk nanj kot na odgovornega za IPv6 na Facebook omrežju v tistem času tik pred Svetovnim IPv6 dnevom prehud.
Pogovori o predavanjih po Evropi so potekali na Eifflovem stolpu v Parizu, od leve proti desni: Ragnar Anfinsen (Altibox Norway), Will Lawton (Facebook), Stacey Gladman, Ron Broersma (US Navy, SPAWAR). Picture taken by Jan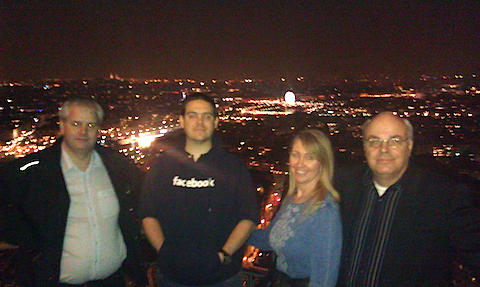 Veselim se njegovega obiska.
Jan Žorž
Vaš IP naslov (ali ste na IPv6 ?):
3.214.184.223