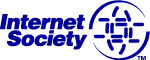 Sporočamo veselo novico, da je danes Go6 platforma dobila novega člana. Globalni ISOC se je polnopravno včlanil v Go6, kar smatramo kot veliko pohvalo in priznanje za naše delo in uspehe na področju uvajanja IPv6 ter tudi prizadevanjem za boljši in prijaznejši Internet prihodnosti…
ISOC je bil ustanovljen leta 1992 v namene usmerjanja in podpore razvoja ter standardizacije Interneta skozi čas. ISOC je v potrebe standardizacije ustanovil IETF, ki je danes glavno standardizacijsko telo za Internet standarde (RFC).
Kaj ve o ISOC povedati wikipedia:
The Internet Society or ISOC is an international, nonprofit organization founded during 1992 to provide direction in Internet related standards, education, and policy. It states that its mission is "to assure the open development, evolution and use of the Internet for the benefit of all people throughout the world".
The Internet Society has offices near Washington, DC, USA, and in Geneva, Switzerland. It has a membership base comprising more than 80 organizational and more than 28,000 individual members. Members also form "chapters" based on either common geographical location or special interests. There are currently more than 90 chapters around the world.
ISOC je opazil naše delo na področju IPv6 in po nekaj pogovorih smo ugotovili, da imamo pravzaprav podobne cije – med drugim tudi kreiranje neodvisnega prostora, kjer se lahko pogovarjajo med sabo država, regulator, operaterji ter ostala industrija – Go6 platforma je takšen prostor in tudi to je navdušilo predstavnike ISOC-a.
Veseli smo, da nas je ISOC podprl na tako demonstrativen način. To moramo vsi skupaj vzeti kot eno veliko priznanje našemu delu in dvigovanju zavesti o IPv6, uvajanju novega protokola, povezovanju Internetne slovenske skupnosti ter prizadevanjem za boljši Internet.
Za go6, Jan Žorž
P.S: Nekaj časa bomo še rabili, da bomo sploh doumeli kaj se nam je zgodilo… <confused>
Vaš IP naslov (ali ste na IPv6 ?):
54.156.39.245